How did you find out that you had been nominated for a Women's Recognition Award?
The first I knew about it was when I received an email from Financial Reporter notifying me that I had been nominated. I had no idea that Dawn Mirfin (Group Underwriting and Real Estate Director at OSB Group) had put me forward for Underwriter of The Year.
How did you feel?
Discovering that Dawn had nominated me was a huge deal - the fact that she was impressed enough by my work to put me forward felt very humbling. It was also a total surprise, as I always feel that I am just doing my job and so many of my colleagues deserve the same recognition.
To be honest I felt mixed emotions – I was uncomfortable with the attention as I tend to shy away from the spotlight, but at the same time I felt very special and proud to be noticed for my work.
How was the awards night?
I felt very excited and slightly anxious about the night itself, from figuring out what to wear through to the attention I might face – I did feel outside of my comfort zone.
I then found myself sitting at a table with two other nominees for the Underwriter of The Year award. That felt quite odd, as I was well aware I was competing against some of the best in the industry – no pressure then!
Being announced the winner of Underwriter of The Year, how did you feel?
I honestly did not expect to win, so when my name was read out as Underwriter of The Year I was in total shock. I don't really remember making my way to the stage to accept the award. It was overwhelming. Then afterwards lots of people came up to congratulate me…it didn't feel real and took a good while to process!
How has it been since the award win?
When I next went to the office, I turned up with my award in hand and as I walked through the door all my colleagues were cheering for me. It was such a lovely welcome! My award now sits pride of place on my desk, which is a wonderful reminder. However, I am constantly asked work-related questions by my colleagues now I'm 'underwriter of the year'!
What is your experience of being a woman in finance?
Personally, I have not come across any issues being a woman in this industry, in fact there are more women than men in our team. I measure myself against my peers no matter what their gender.
How is the underwriting arena in the current climate?
We're coming out a very challenging time. At the end of last year there was huge demand in the market, which put pressure on the whole underwriting team. Although at times it was mentally draining, I feel I work really well with an element of stress - but Christmas was still a welcome break. Things seem to be calmer now – at least for the moment anyway!
At the end of last year, we made improvements to our underwriting processes to help make the journey smoother for the broker and their client which included:
Case Ownership – as underwriters we deal with each case from start to finish. As soon as a case is submitted at the full application stage, we see it through completely to offer. This means we underwrite the case, update the broker and then action outstanding/post information as it comes in, making it a smoother journey for the broker and their customer.  This helps us to prevent any unnecessary delays.
Proactive Pipeline Process – once we have underwritten a case, we check in with brokers at set timings. This helps to get all information and documents in so we can ensure cases are offered by the 35th day, providing multiple opportunities to progress the case before it falls outside of the offer period.
These steps not only help the process along but help us forge strong relationships with brokers.
What's on the horizon for 2023?
In underwriting, we have a keen focus this year on coaching and support for fellow colleagues, providing opportunities to learn new and develop existing skills and knowledge. I work over two of the lending brands: Kent Reliance for Intermediaries and InterBay, which provides me with a lot of insight and the opportunity to develop my underwriting skills across varying cases. This is something I am keep to help other colleagues develop too.
I will also be helping with our Live Chat function, which is something I really enjoy. It's an opportunity to get more 'hands on' with brokers and their queries.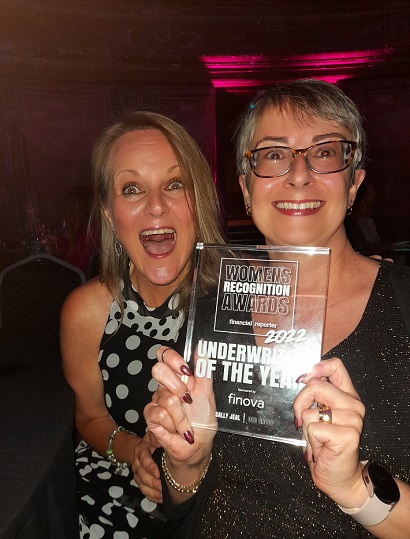 This article first appeared in the Financial Reporter.